Saddles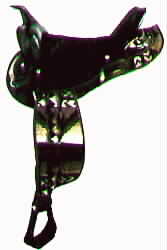 Bighorn Cordura Saddle in Southwest Design
Features: 13" Barrel front Ralide tree with Quarter Horse bars
7/8 rigging
suede seat with 4" cantle
Fleece lined round skirts
Weighs approx. 19 lbs.

Available in a variety of colours.
Smokescreen (Black/Brown)*shown....#184- 15" seat #182- 16" seat
Fiesta (Black/Red)....#191- 15" seat #189- 16" seat
Del Rio (Burgundy/Green)....#197- 15" seat #199- 16" seat
Mystic (Black/Purple)....#187- 15" seat #185- 16" seat
Onyx (Black/Silver)....#183- 15" seat #181- 16" seat

Price: 15" - $550.00 Cdn. 16" - $650.00 Cdn.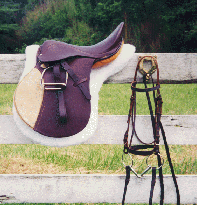 General Purpose English Saddle Package
A good all purpose economy saddle for the beginner or infrequent rider.
Package includes stirrup leathers, irons, girth, saddle pad, bridle and bit. Everything you need to get started...except the horse.
Available in 15" - 18" seat.
Price: $275.00 Cdn.
Sorry, we are still under construction. More selections will be coming soon.
Follow the Pony Tracks back to CJ's Home Page.


This page was last modified June 15, 1997.
This page was created byCheryl McLaughlin.